Pequeño Alpamayo (5.425m)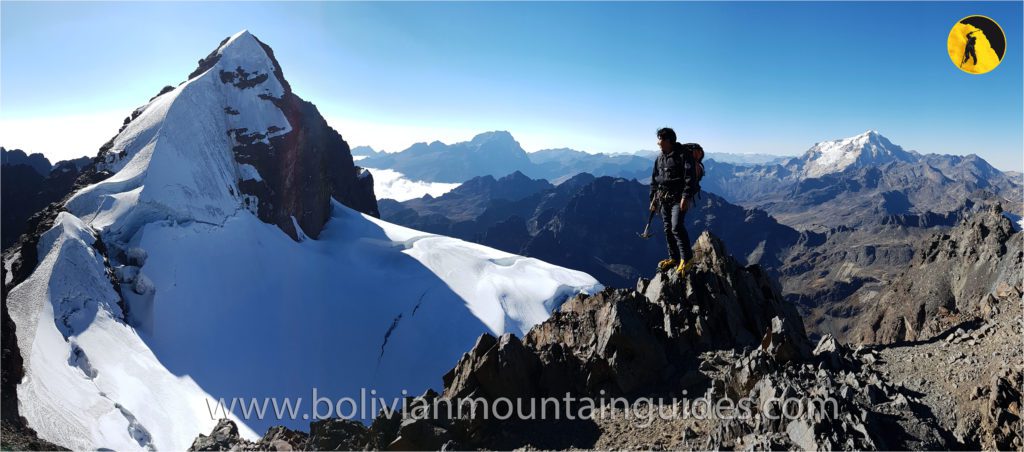 Little Alpamayo (5,425 m.) Crossing the glacier to the top of the Tarija peak is just the beginning. This peak is impressive, beautiful, and justifiably popular. You cannot see it from the base camp completely, you can only see its summit; but the view of the mountain from Pico Tarija is impressive. The snow and rock pyramid looks a lot harder to climb than it is and the summit ridge is one of the more aesthetic lines.
Itinarary:
Day 1: On this day we will start with an early departure from La Paz and we will go to Rinconada del Condoriri where the vehicle will leave us. Then, we continue with a short walk until we reach Laguna Chiar Khota (4,630 m.) Where we will establish our base camp.
Day 2.- We start our journey very early going up first to Pico Tarija (5,300 m), then we continue to Little Alpamayo (5,425 m.) Beautiful mountain; our return to the base camp is by the same route.
Day 3: After breakfast, we prepare our luggage and begin the descent to Rinconada del Condoriri where our vehicle will be waiting for us to take us back to La Paz.