Climbing Illampu (6.360 m.) (5 days)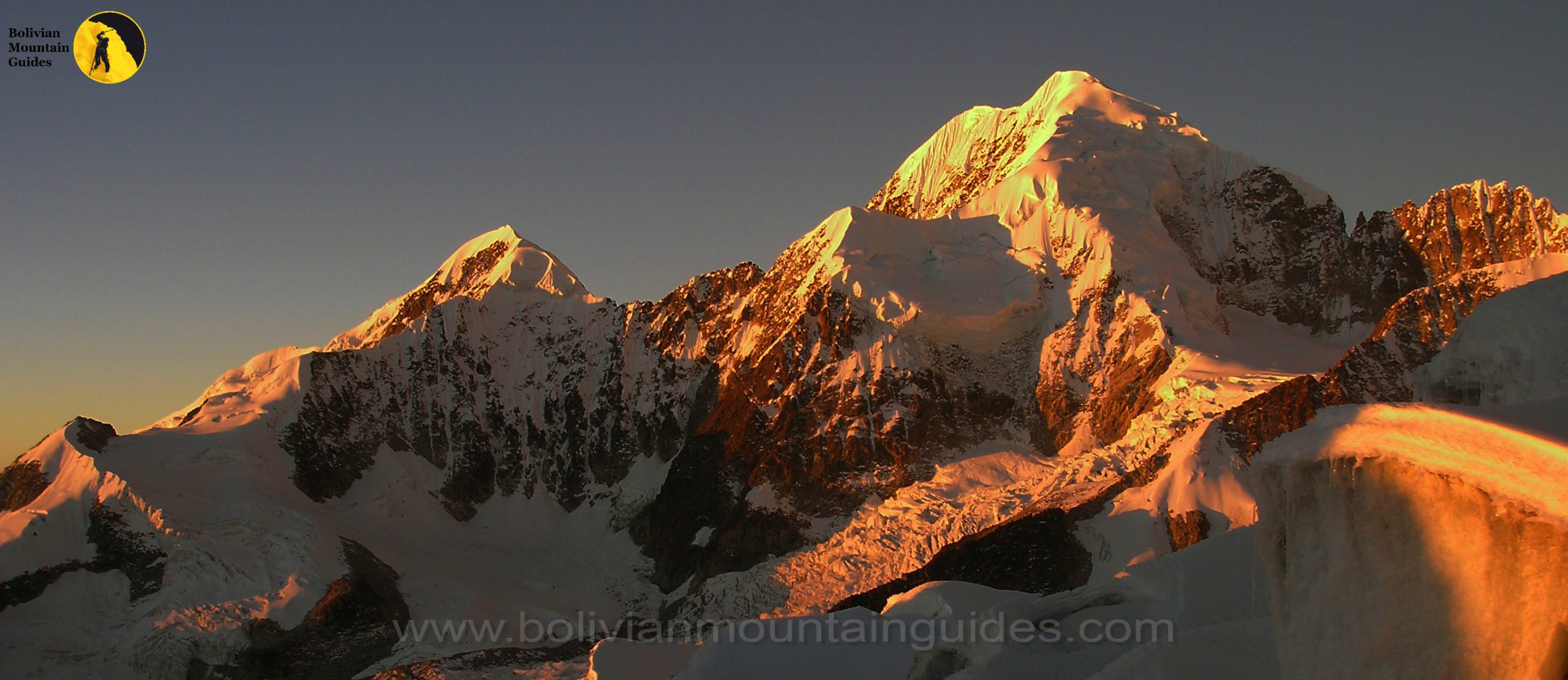 This is a relatively unpopular summit, since its normal ascension path is the most difficult in Bolivia; It constitutes a very beautiful mountain trip, however, it is reserved only for experienced and astute mountaineers. The whole route is technical and committed. The edge that leads to the top is very hard and exposed.
ITINERARY:
Day 1.- LA PAZ – SORATAN – LACATYA.
A full day in vehicle. Starting early from La Paz, we travel down into the valley of Sorata. After lunch in Sorata we will continue to the community of Lacatyia, where we will set our first camp (4,200m).
Day 2.- LACATYA – AGUAS CALIENTES.
After breakfast we begin a short trek to our second camp spot, in an area known as Aguas Calientes (4,850m). During these three hours, on a clear day, we are able to appreciate the majestic Illampu massif.
Day 3.- AGUAS CALIENTES – HIGH CAMP.
Today we will reach the high camp, at 5,600m. The route begins over a moraine and other rocky areas until we reach the start of the glacier. The camp site is a short distance along the length of the glaciar, (approx 5 hours in total).
Day 4.- HIGH CAMP – SUMMIT ILLAMPU (6.360 m.) – BASE CAMP (AGUAS CALIENTES).
This is going to be a very long day and we'll have to leave very early in the morning. There will be a 2-hour hike to the base of the wall, from where we'll start climbing the ice wall up to 60° for 300m.
We continue the ascent until we reach the Summit of Illampu, the panoramic view from its peak is stunning. After a brief rest, we begin the descent back down the same route to reach the base camp, the journey can take between 14 to 16 hours.
Day 5.- AGUAS CALIENTES – LACATYA – SORATA – LA PAZ.
In the morning, after breakfast, we begin the ascent to the Illampu pass. From here, we continue the descent until we reach Lacatya estate where the vehicle awaits us to take us back first to Sorata and finally to the city of La Paz.