Acotango - Parinacota - Sajama (7 days)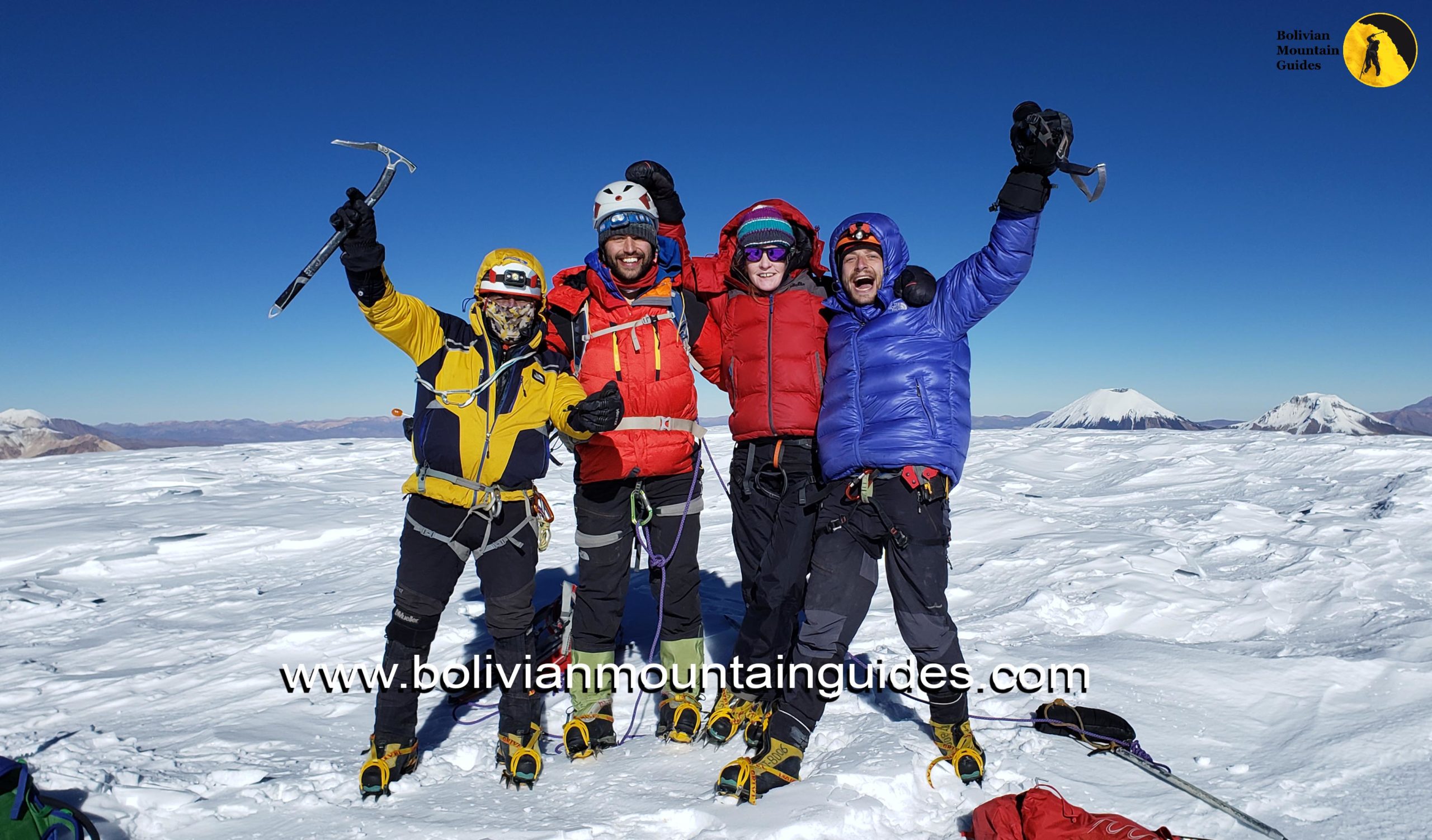 ITINERARY:
Day 1.- LA PAZ – SAJAMA
We depart early in the morning towards Sajama National Park, the journey takes approximately 4 hours. We set up in the town of Sajama, and in the evening take a short walk around the surroundings of the town.
Day 2.- SAJAMA – SUMMIT ACOTANGO (6052 m.) – SAJAMA
From the village of Sajama, we drive to Chachacomani, a small village near the base of Acotango. We immediately begin our ascent along the «Quebrada del Cóndor Jipiña» mining route (4,800 m) and reach 5,400 meters by vehicle. The climb to the top of Acotango takes approximately 5 to 6 hours.
Return to Sajama
Day 3.- SAJAMA – SUMMIT PARINACOTA (6.360 m.) – RETURN TO SAJAMA.
After breakfast, we start the approach to the mountain in the 4×4 vehicle at 2 a.m. to Alto Camp (5,140m). We climb the mountain on the moraine until we reach the glacier. Using technical equipment, we ascend to the summit of Parinacota (6,360m), the ascent takes approximately 6 hours. Our return is along the same route to the town of Sajama.
Day 4.- SAJAMA – WINCURATA – SAJAMA BASE CAMP
We depart from the town at 10 am, first we head to the place known as Wincurata and continue through the valley until we reach the Sajama Base Camp (4,820 m.), this journey takes 3 hours.
Day 5.- BASE CAMP – HIGH CAMP (5.700 m.)
At around 9 am, we will start our ascent to the high camp, which takes approximately 5 hours. The carriers will assist us in transporting all the technical equipment we need for the climb.
Day 6.- HIGH CAMP – SAJAMA SUMMIT (6,542 m) – RETURN TO BASE CAMP.
We start the ascent at 2:00 am, with a first part with a steep slope and a mixed traverse, then the terrain maintains a slope of about 50 degrees until the final part. The summit is a huge plateau. We return the same way to the high camp and then continue to the base camp.
Day 7.- BASE CAMP – SAJAMA – RETURN TO LA PAZ.
At 9:00 am, we start the descent to Wincurata where the vehicle is waiting for us. First we will take a bath in the hot springs and then return to the city of La Paz.