Climbing Condoriri Group (5 days)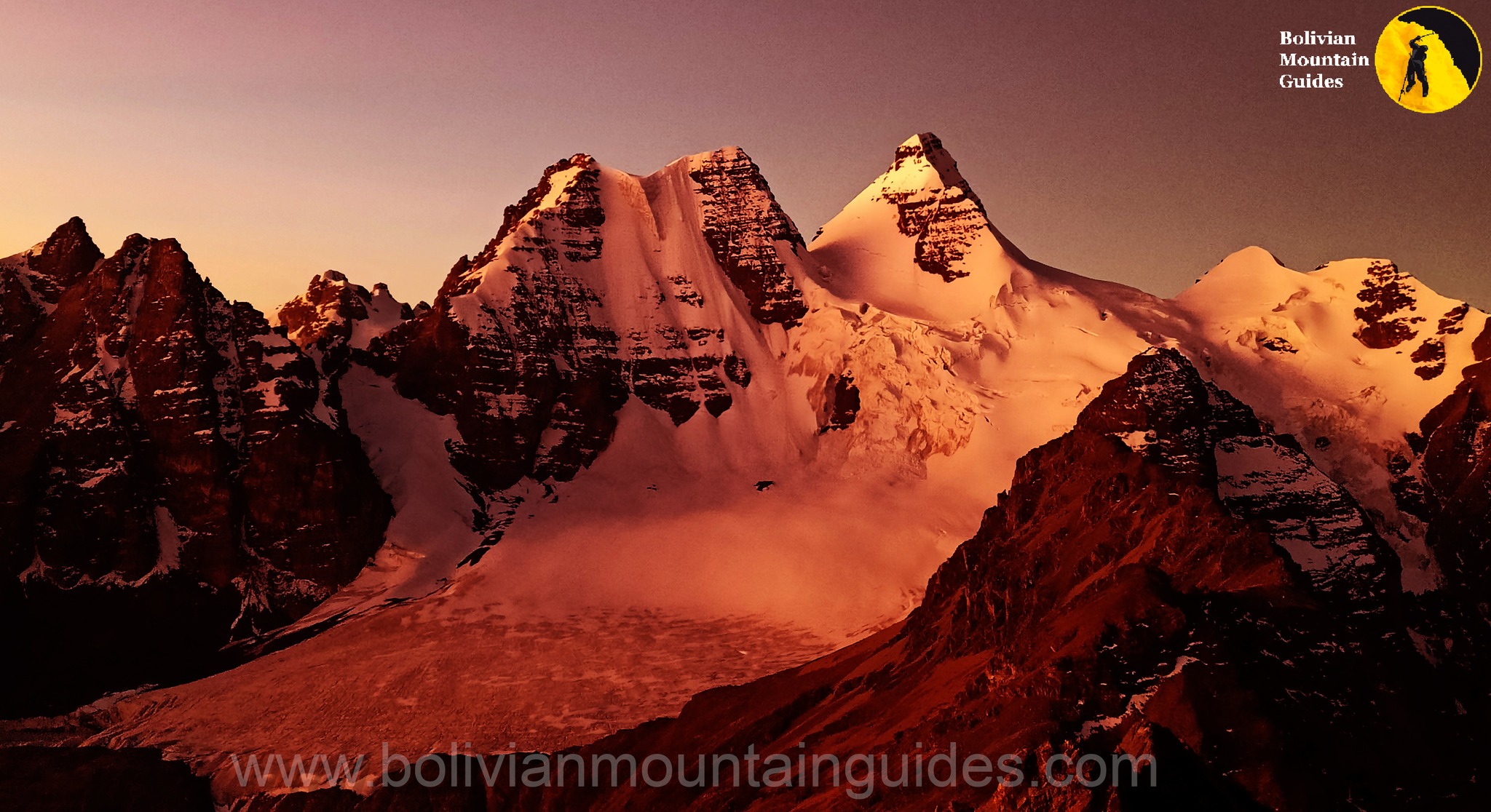 Condoriri 5700m
The highest of these peaks is the Cabeza del Cóndor at 5700 m, and one of the most demanding peaks in the massif.
This program includes Cabeza del Cóndor, Pequeño Alpamayo (5370m), Piramide Blanca (5230m) or Illusion (5330m). Although summits are not as high as other mountains in Bolivia, the combination of land and necessary skills will make the experience unforgettable.
ITINERARY:
Day 1.- LA PAZ – RINCONADA DE CONDORIRI – BASE CAMP.
A two-hour trip from La Paz to Rinconada del Condoriri by car and then a short trek to the base camp of Condoriri, where we will have our first views of Cabeza del Cóndor and Las Alas, the rock formation that He gave the mountain his name.
Day 2.- LAGUNA CHIAR QUTA – PICO TARIJA – PEQUEÑO ALPAMAYO.
Small Alpamayo, after breakfast, we begin our journey to Tarija Peak (5,300 m), descend on rock about 60 meters and then continue to the SMALL ALPAMAYO (5,350 m).
Our return route is the same as the ascension.
Day 3.- LAGUNA CHIAR QUTA – PICO PIRAMIDE BLANCA.
Early start to reach the top of Pico Piramide Blanca (5,350m). It is not a high climb, but the approach gives us the opportunity to practice different skills (for example, glacial traverse) and helps in our preparation for the Head of the Condor the next day.
Day 4.- LAGUNA CHIAR QUTA – CABEZA DE CONDOR.
A long day to reach the top of the Cabeza del Cóndor. The terrain begins in very loose rocks until we reach the ice. The ascent starts relatively smoothly until we enter an ice canyon where climbing becomes more technical. Once reached the summit, we return by the same route to our base camp.
Day 5.- AGUNA CHIAR QUTA – RINCONADA DE CONDORIRI – RETURN TO LA PAZ.
Es hora de iniciar el campamento y regresar a la Rinconada del Condoriri, donde nos estará esperando nuestro vehículo para llevarnos de regreso a La Paz.