The Sajama National Park is located in the department of Oruro in the Province of Curaguara de Carangas in the western Andes Mountains.
In this park is the highest mountain in Bolivia, Sajama (6,542m.) Having as neighbors the volcanoes of Acotango, Humarata, Capurata (Kimsa Chatas), Parinacota and Pomerape also called the Payachatas. Other tourist attractions are geysers, hot springs and lagoons in the area.
ITINERARY:
Day 1: LA PAZ – CHURCH OF CURAHUARA OF CARANGAS – SAJAMA.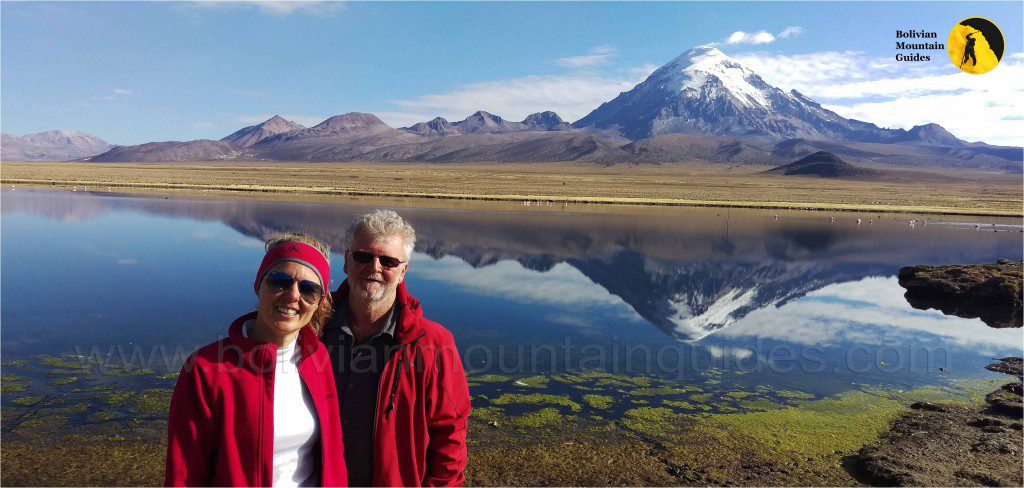 We start 08:00 am. We head towards the town of Patacamaya from where we take the fork on the left side that leads us to the town of Sajama, on the way we will visit the chullpas (Funerary tombs – pre-Columbian), continuing the trip we will visit the colonial Church of Curahuara de Carangas , considered as the "Sistine Chapel of the Altiplano" due to the quality of works of art that are found inside such as the paintings that fill the walls, continuing our journey we will reach the Valley of the Rocks, a place with strange rock formations and by In the afternoon we will be arriving at the town of Sajama.
After establishing in the town we will make a short tour to the Mirador de Monte Cristo from where you have a panoramic view of the town and the mountains.
Overnight in the town of Sajama.
Day 2: VISIT TO THE GEYSERS – THERMAL WATERS – LA PAZ.
After a good breakfast we will go to the "geysers" enjoying the beautiful landscape of the snowy mountains like "Parinacota", "Pomerape" and mainly the Sajama we can also observe the Andean camelids such as alpacas and llamas; Later we will go to the hot springs to take a healthy and natural bath. At noon we will have lunch in the town of Sajama and in the afternoon we will take our return to the city of La Paz.