Trek Juri Quta - Huayna Potosi (4 days)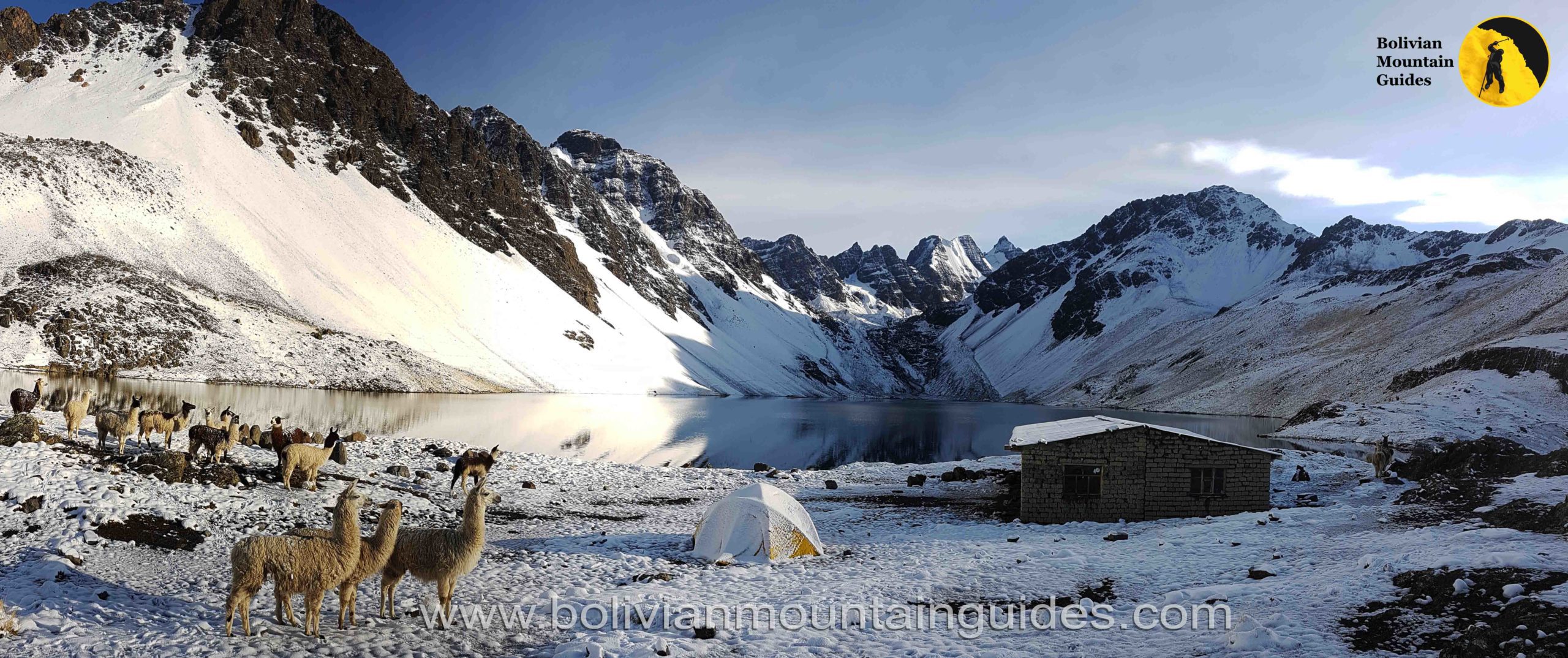 It is a trekking through the base of the Cordillera Real and accessible to all good walkers, magnificent views near the mountains and spectacular lakes.
ITINERARY:
Day 1.- LA PAZ – RINCONADA DEL CONDORIRI – LAGUNA JURI QUTA.
Departure from La Paz at 8 a.m. in our private vehicle to Rinconada de Condoriri, the starting point of our trek, with a 2.5 hour trip by vehicle. We begin by ascending a pass at an altitude of 4,900 m, before descending to Laguna Juri Quta. From there we have a very beautiful view of the Head of the Condor (5,700 m) and the mountain of Cuchill Khunu (Snow Knife).
Day 2.- LAGUNA JURI QUTA – GLACIAL LAGOON – AUSTRIA PEAK – LAGUNA CHIAR QUTA.
From Laguna Juri Quta we begin our trek along the shore of the lake, gradually ascending until we reach Glacial Lagoon, a jewel nestled at a height of 4,900 meters at the foot of the Condoriri glacier. From there we continue climbing to the Austria pass at 5,140 m. It is recommended to climb to Austria Peak (5,350 m.), its summit is an excellent viewpoint of the entire Cordillera. After a photo session, we descend to Laguna Chiar Khota (4,630 m.) where we will establish our camp.
Day 3.- CHIAR QUTA – JISTAÑA PASS – MARIA LLOCO CAMP.
Today's pass is Jistaña, at an altitude of 4,900m, which takes us into the Racacha valley. Continuing our route, we finally arrive at the Maria Lloco valley, where we will camp near this community (4,600 m.).
Day 4. – MARIA LLOCO – HUAYNA POTOSI – RETURN TO LA PAZ.
Our last stop is the Huallatani or Maria Lloco pass (4,850 m). From here, on a clear day, we can enjoy the impressive views of the Maria Lloco mountains and the imposing Huayna Potosi. It's also where our vehicle awaits us for our return to La Paz.