Sajama National Park Tour (3 days)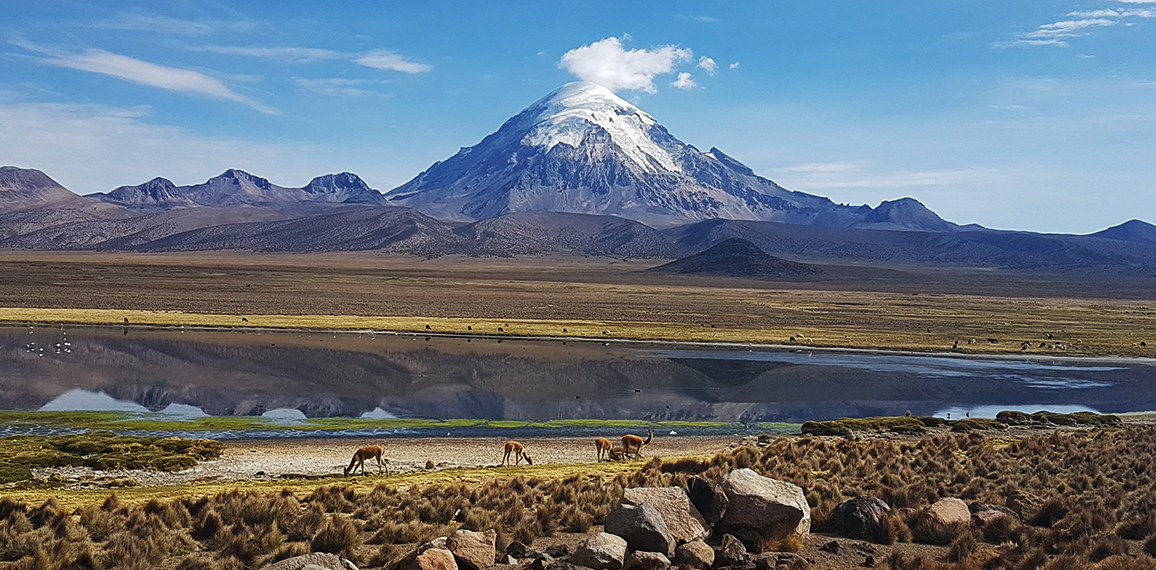 SAJAMA NATIONAL PARK TOUR
Sajama National Park is situated in the department of Oruro, in the Province of Curaguara de Carangas, in the Western Cordillera of the Andes. This park is home to the highest mountain in Bolivia, Sajama (6,542m), and is neighbored by the volcanoes of Acotango, Humarata, Capurata (Kimsa Chatas), Parinacota, and Pomerape, which are also known as Payachatas. Other tourist attractions in the area include geysers, hot springs, and high-altitude lagoons.
ITINERARY:
Day 1: LA PAZ – SAJAMA.
We start at 8:00 am and head towards the town of Patacamaya. From there, we take the fork on the left side that leads us to the town of Sajama. On the way, we will visit the chullpas (Funerary tombs – pre-Columbian). Continuing the trip, we will visit the colonial Church of Curahuara de Carangas, considered as the "Sistine Chapel of the Altiplano" due to the quality of works of art that are found inside, such as the paintings that fill the walls. Continuing our journey, we will reach the Valley of the Rocks, a place with strange rock formations. In the afternoon, we will arrive at the town of Sajama. After settling in, we will take a short tour to the Mirador de Monte Cristo, from where you have a panoramic view of the town and the mountains. Overnight stay in the town of Sajama.
Day 2: SAJAMA – KHASIRI LAGOON – SORAPATA LAGOON – CHIAR QUTA LAGOON
In the morning, we will visit the geysers and start the trekking towards Khasiri lagoon (4,850 m.). On the way, we can see different types of birds and many vizcachas. We are practically on the border with Chile. Continuing our tour, we arrive at Laguna Sorapata (4,930 m.) and finally at Laguna Chiar Quta (4,998 m.). All these gaps are at the base of the Condoriri group. After lunch and a photo shoot, we will begin our return to the geysers and then to Sajama.
Day 3: SAJAMA – HOT SPRING – HUAÑA QUTA – TOMARAPI – LA PAZ
After breakfast, we start our tour by visiting the hot springs. We will then continue visiting the Huaña Khota lagoon, where you can see the fauna of the place, such as pink flamingos, alpacas, vicuñas, and ostriches (if we are lucky). From here, we will go to the town of Tomarapi and finally return to La Paz.