Bart, Johan, Elaine and Ben descidieron a tour to the peak Austria, atmospheric conditions are not very good at this time, but enjoyed the scenery.
When we got to step Austria, we saw that much snow had fallen and we could not continue the ascent.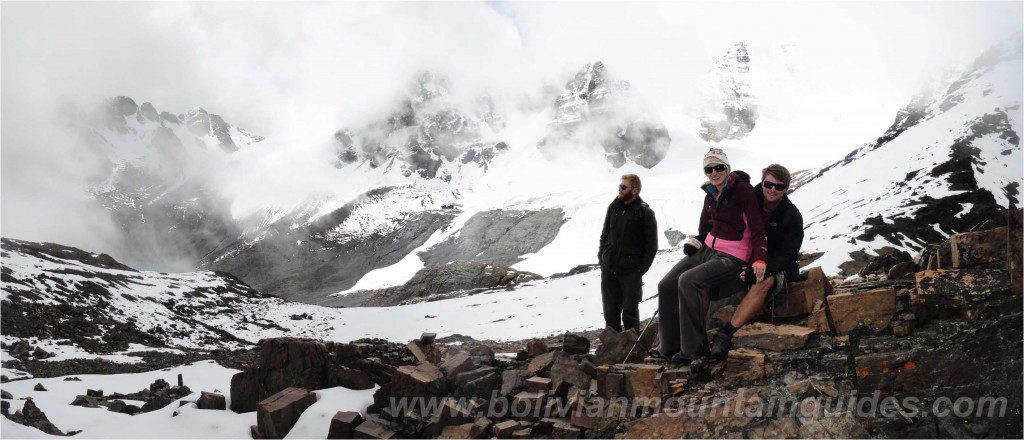 Bart Taeymans (Belgica) Says:
We started the day early to head of to the Condoriri mountains, ready to conquer the Pico Austria.
When we parked the indestructable godzilla nearby, we hiked one hour and a half to the stunning Laguna Chiar Khota. Eduardo, our guide for the day, knows the area by heart and it was a pleasure hearing facts and stories during our way up.
After we took a welcome break for lunch on a calm paso on the Pico Austria slope, things started to get real. You know when vegetation disappears, you're getting pretty damn high. The wind gets cold, you start to wander through blankets of snow, and each step makes you catch you breath. Because of the bad weather conditions, the recent amount of snow and the lack of time, we didn't make it to the top of the Pico Austria.Trust me, the view on the Paso Austria at 5100 meters high is breathtaking.
Our guide was greatly experienced and knows how to deal with unpredictable situations, even more so, he really knows how to deal with us, unpractised tourists. The four of us had a great experience that day, and after this small first step, we feel ready to explore more of the beautiful Bolivian landscapes.
Thanks Eduardo.